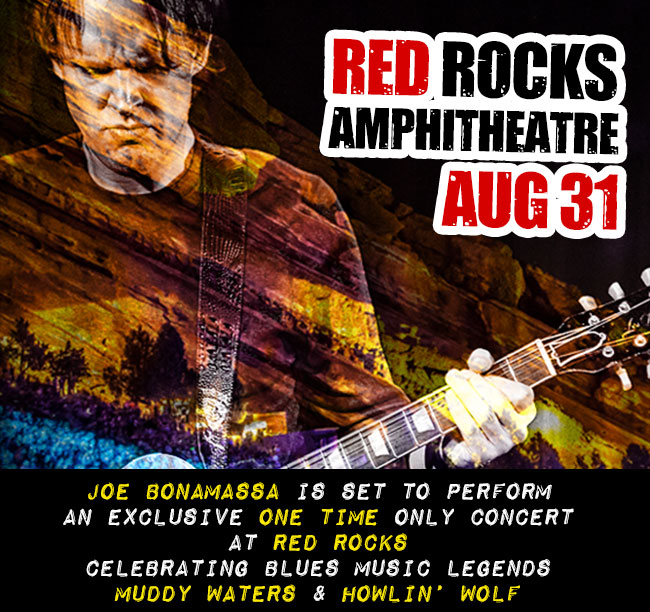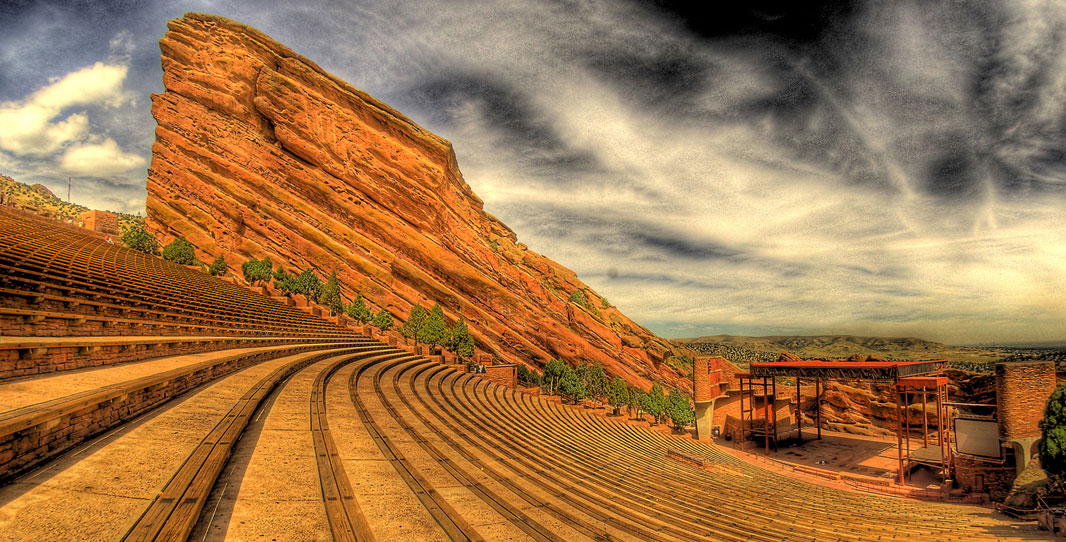 Joe Bonamassa to perform a Muddy Wolf Tribute at Red Rocks Amphitheater – A Tribute Concert to Muddy Waters and Howlin' Wolf
Denver, CO - Guitar Hero Joe Bonamassa is set to perform an exclusive event concert experience at Red Rocks Amphitheater celebrating the music of blues legends Muddy Waters and Howlin' Wolf. This tribute concert will be performed one time only, will feature a special ensemble of amazing musicians and will be filmed for PBS and Palladia.
Material for the show will be primarily sourced from the catalogs of Howlin' Wolf, one of the most influential Chicago bluesmen of all time, known for his deep, scratchy voice, and Muddy Waters, considered the "father of modern Chicago blues" and a major inspiration for the British blues explosion of the 1960s, a genre that Bonamassa grew up with and that influences his own music to this day. A full performance will be dedicated to a selection of songs from each artist, followed by a 30 minute set of songs from Bonamassa's own extensive catalog.
Tickets are sold out!. For every ticket purchased, $5 will be donated to Keeping the Blues Alive which Bonamassa founded to promote the heritage of the blues to the next generation, fund music scholarships, and supplement the loss of music education programs in public schools. Read more here: http://www.keepingthebluesalive.org/
The concert will begin just before sundown, highlighting the natural beauty of the amphitheater. Located in Red Rocks Park, Red Rocks Amphitheatre is a geological phenomenon – the only naturally-occurring, acoustically perfect amphitheatre in the world. From Sting and The Beatles, to opera stars and U2, every artist aspires to play on this magical, spiritual and emotional stage. It is also a popular venue for live recordings due to the uniqueness of the setting. Bands that have released live recordings from the venue include U2, Fleetwood Mac singer Stevie Nicks, The Moody Blues, Dave Matthews Band, Neil Young, R.E.M., Ben Harper, Coldplay, The Allman Brothers Band, Phish, and many more.
McKinley Morganfield, better known as the Muddy Waters, was arguably the most important bluesman to emerge after the second World War, and is without question "The Father of Chicago Blues". His union of the music of the Mississippi Delta with raw and fierce amplification pioneered the blues of The Windy City. Without Muddy Waters, the British blues and rock & roll explosion would have been a whimper.
At nearly three hundred pounds and well over six feet tall, Chester Burnett was an intimidating man. His presence was even more daunting when he took to the stage as Howlin Wolf and shook the foundations with his earthshattering growl. There are a scant few who can hold their own on the killing floor with this veritable giant of the Chicago Blues.