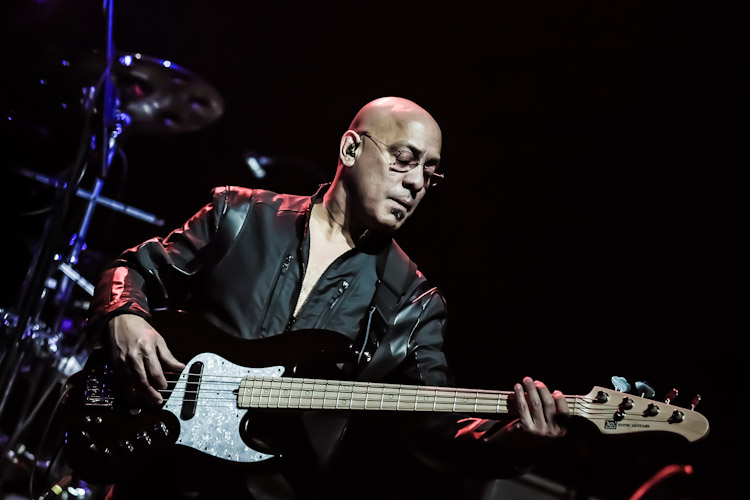 Carmine Rojas
A man of many, many talents, Carmine Rojas has excelled in the positions of musical director, producer, and composer since his career in music began decades ago. On top of those feats, the man is also one damn fine bassist. Effortlessly performing the genres of hard rock, funk, rhythm & blues, jazz, soul, pop, country, blues and blues rock, Rojas has shown that his musical depth knows no bounds. His talents were utilized by David Bowie from 1983-1987 both on tour and in the studio. He was featured on Bowie's top hits of that era, such as "China Girl", "Modern Love", and the chart-topping "Let's Dance". A short stint touring with Julian Lennon preceded fifteen years spent working closely with Rod Stewart. Rojas' numerous talents had also been utilized by the likes of Billy Gibbons, Herbie Hancock, Billy Joel, Carlos Santana, John Hiatt, Tina Turner, Stevie Ray Vaughan, Bobby Womack, and the legend among legends, the great B.B. King. Beginning with 2005's You and Me, Joe Bonamassa has welcomed Carmine Rojas as a musical brother both in the recording studio and on hundreds upon hundreds of stages world over. Now, nearly ten years since he joined the family, Rojas has brought his sharpened skills as a bassist to several of Joe's releases and too many tours to count. His skills were brought into the soulful partnership that took flight in 2011 with singer Beth Hart and has continued with the Grammy-nominated Seesaw and the upcoming explosive Live in Amsterdam.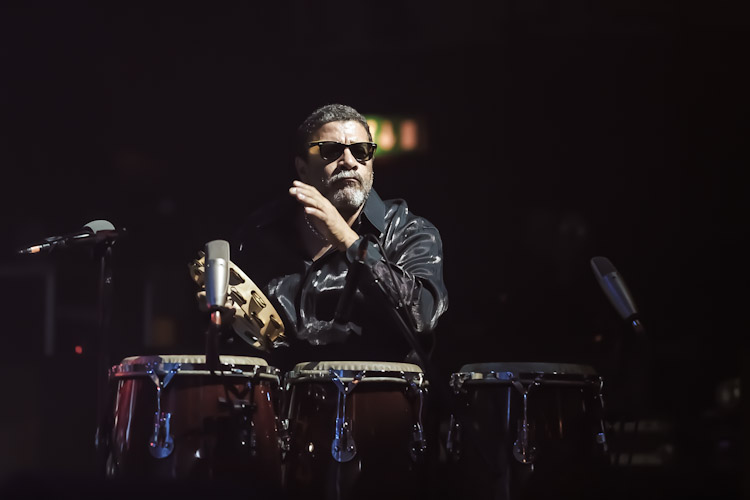 Lenny Castro
Introduced to the congas at a very young age by his father, Lenny Castro grew up exploring New York watching and learning from anyone that he would happen to come across. In addition to listening to Latin music as a child, he was a lover of rock & roll, classical music, and jazz, all of which he would use to sharpen his constantly expanding skills. By the time he was fifteen, Castro had begun to earn a profit for gigs that he performed throughout New York. Recognition began to rain down on this up and coming percussionist after touring with Melissa Manchester. He relocated to Los Angeles where he landed a session with Diana Ross, which in turn landed him a session with Boz Scaggs. He caught the attention of rock band Toto, with whom he would tour and record with in the 80's. Being a freelance musician that he was, Castro had the opportunity to work with a slew of artists that sought his seasoned percussionist skills. Over the years he found himself in the company of Eric Clapton, Stevie Wonder, Tom Petty, Steely Dan, the Red Hot Chili Peppers, Booker T. Jones, John Mayer, Elton John, Fleetwood Mac, and the Rolling Stones. In 2012 he joined blues rock musician Joe Bonamassa and a freshly assembled band for a series of purely acoustic performances in Europe, which culminated with a recorded performance at The Vienna Opera House. Lenny Castro became a fulltime member of Joe's acoustic & electric act in Fall of 2013, and continues to tour with the bluesman today.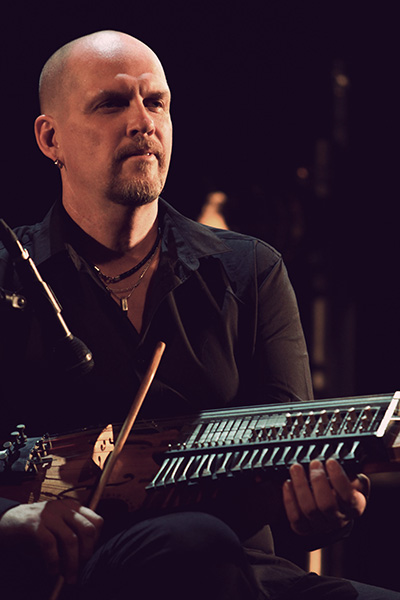 Mats Wester
Mats Wester is a respected Swedish studio engineer, producer, songwriter, and musician renowned for his mastery of his homeland's traditional instrument, the nyckelharpa, as well as the mandola. He had begun to learn the instrument in his early teens, and by age 23 was Wester was awarded the prestigious title of "Riksspelman", to commemorate his mastery of Swedish folk music. In 1993 he brought his skills as a musician and songwriter to the folk rock duo Nordman, which saw Wester team with singer Håkan Hemlin. The duo gathered quite the following in Sweden, and after a split up from 1998-2004, reunited to top the music charts of their home country. In the summer of 2012, Mats Wester's considerable skills were called upon to complete the challenging puzzle that was Joe Bonamassa's maiden acoustic tour, which culminated in a recorded performance at the Vienna Opera House. After the success of that tour, Wester was invited to join Bonamassa's touring band and has since fleshed out the bluesman's acoustic act with his unique musical prowess.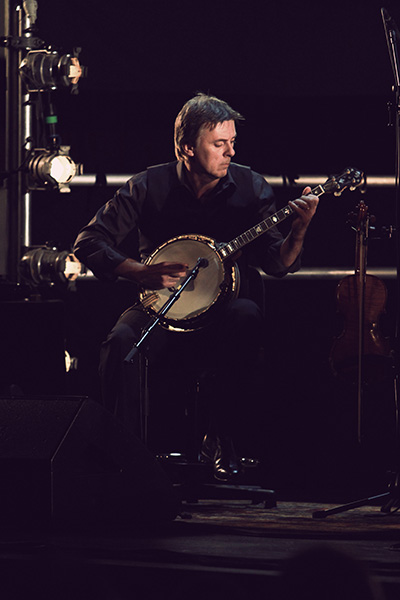 Gerry O'Connor
With the traditions of past generations endowed upon him, Gerry O'Connor has done much and more to see that the music of both the Irish fiddle and banjo remain not only alive, but thrive in the modern world. In honoring the heritage of his homeland, he has garnered acclaim as both a teacher and performer of traditional Irish music. In addition to touring and recording on his own, he has brought his virtuosic skills to the such bands as Skylark, Four Men and a Dog, La Lugh, the Irish Baroque Orchestra, the Irish Rovers, and more. In the summer of 2012, Gerry O'Connor brought the beautiful sounds of both the Irish fiddle and banjo to the truly unique and completely acoustic European tour of blues rock guitarist Joe Bonamassa. When all was said and done, it was unquestionably clear that the addition of O'Connor's musical prowess was needed to bring completely flesh out Bonamassa's unamplified presence . In the Fall of 2013, he was made a welcome addition to Joe Bonamassa's acoustic touring band and his expert musicianship was recently captured at the Royal Albert Hall performance of the acclaimed Tour de Force series.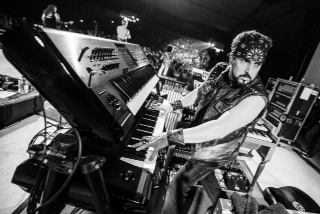 Derek Sherinian
He has been called the "King of the Keys". The Godfather of Shock Rock, none other than Alice Cooper, christened him the "Caligula of Keyboards". He is the one and only Derek Sherinian. Since the age of five this renowned progressive rock keyboardist, composer, and producer honed the skills of his craft, and eventually earned himself a scholarship to the Berklee College of Music. His introduction to the world of professional musicianship began with a tour with drummer extraordinaire Buddy Miles before he secured gigs backing Alice Cooper and KISS on the road. In 1994 he accepted the honor and challenge of touring with the highly regarded and technically astounding prog-metal Dream Theater. Sherinian put his extensive musical skills to the test throughout his five year tenure with the group, after which he departed with the determination to bring his own musical ambitions to life. In addition to his solo work, he began the instrumental supergroup Planet X in 2000, and recorded with Billy Idol, Yngwie Malmsteen, and the now-defunct jazz-fusion supergroup Platypus. In 2009, Sherinian co-founded the hard rock supergroup Black Country Communion with Joe Bonamassa, Jason Bonham, and Glenn Hughes. Though the group disbanded in 2013, the project nevertheless produced four acclaimed albums, all of which overflow with his pristine and pummeling "guitaristic" keys. Shortly after, Joe Bonamassa extended an invitation to Sherinian to become a fulltime member of his band. Since August of 2013, this master keyboardist has brought aboard his considerable and fierce abilities to Bonamassa's exhausting, worldwide touring schedule.
Tal Bergman
A drummer such as Tal Bergman is truly one in a million. With a masterful understanding of his instrument, he is able to effortlessly dive into and flourish within the musical styles of hard rock, rhythm & blues, jazz, funk, soul, blues rock, pop, hip hop, world music, and alternative rock. He has proven himself time and time again while performing and recording with the likes of Herb Alpert, Billy Idol, Chaka Khan, Simple Minds, LL Cool J, and served as associate producer in addition to having contributed drums to Rod Stewart's wildly successful It Had To Be You: The Great American Songbook. He has remained an essential component of blues rock superstar Joe Bonamassa's touring band for just over 2 years now, and also acts as the bandleader, producer, and drummer of the jazz-funk supergroup "Rock Candy Funk Party" that includes Bonamassa on jamming and grooving on guitar.