"'Let's make a kick-ass record.' That was basically our goal when we went into the studio to cut this album," says Joe Bonamassa of the just-released Black Country Communion 2, which follows the band's almost-self-titled debut (it was called Black Country) by just nine months.
Comprising Bonamassa, lead singer and bassist Glenn Hughes, drummer Jason Bonham and keyboardist Derek Sherinian, the band, with ties to Deep Purple, Led Zeppelin and Dream Theater, were immediately tagged a 'supergroup,' a label Bonamassa is quick to dispel.
"That whole 'supergroup' thing hung over us while we cut the first record, and we just kept our heads down and hoped it would go away," he says. "On the second record, though, I think the stakes were higher. We had to prove that we weren't just a one-time experiment that [producer] Kevin Shirley threw together. We were dedicated to outdoing ourselves on every level and proving the naysayers wrong. And we did it. We're been together for almost two years, and we've already made two records, which is more than most bands make in five years."
With Black Country Communion 2 claiming the number one spot on the UK rock chart in its first week of release, Bonamassa and company have gone a long way towards silencing doubters and haters. "Just to be accepted as a real, living and breathing band is all we ask for," the guitarist says. "Whether you like us or not, that's fine. But just know that we're serious and that we're not the equivalent of a prefab boy band with instruments. That's not what we're about."
During a rare break on his seemingly endless tour schedule, Bonamassa sat down with MusicRadar to talk about the making of Black Country Communion 2. He also discussed some of the recent additions to his bulging guitar collection. What's more, the blues-rock titan happily held forth and answered some questions from MusicRadar readers.
You have a new Gibson Joe Bonamassa Les Paul Studio model. Tell us about it.
"About a year a ago, I had a meeting with the folks at Gibson. They said they wanted to do a USA model with me. My Epiphone model had been a huge success, so that was cool, but as far as doing a Gibson USA model, my criteria was pretty simple, and it was really based on price.
"I threw out a number, and they said, 'We can do that as a Studio model,' which appealed to me because I thought it could be my own version of the Gary Moore model they did several years ago.
"Some time goes by, and I get a call from Pat Foley from Gibson, who tells me, 'I'm holding in my hands a prototype of the Joe Bonamassa Les Paul Studio model.' I was like, 'What?' [laughs] So when I got a chance, I checked it out, and it was awesome. They did a fantastic job on it – the wood, the pickups, the appointments, it's all top-notch – and what I really like about it is, it gives people a chance to buy a premium guitar at a price that won't kill them. It's a beautiful guitar for the price, and you can't say that a lot nowadays."
Speaking of prices, we understand you recently acquired a bona fide sunburst 1959 Les Paul Standard.
"I did. Yes, I did. I had to do it. But see, I don't look at it as simply buying a really expensive guitar – I look at it as choosing between a guitar and a house. [laughs] I've committed fully to apartment living. Yeah, I got a really cool '59 'Burst, and the guy I bought it from has been nice enough to let me pay it off on time.
"The guitar has changed my life. The whole mythology of the '59 Burst… there's something there, for sure. When I plugged it in, I was like, 'There's that sound.' That Paul Kossoff sound I've always been searching for. It's clean, bright, but it has a top-end that rolls off in a very musical way."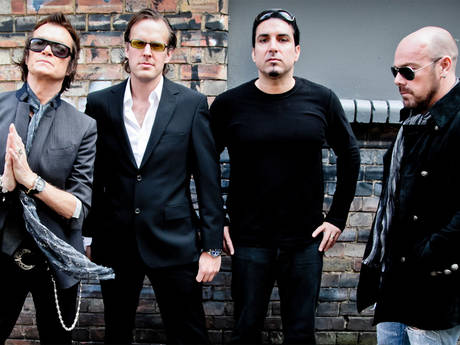 Black Country Communion are (left to right) Glenn Hughes, Joe Bonamassa, Derek Sherinian and Jason Bonham. © Christie Goodwin

So, just like owning a real Warhol or Picasso, having a real 1959 'Burst goes beyond a 'cool' factor?
"Oh yeah. It's like owning a Stradivarius. I have two or three '59 reissues that are fantastic, and they're there. You plug 'em in, you hear 'em, and it's like… they sound unreal. To try to tell the difference, you might as well get out the wine tasters, you know what I mean? [laughs] They're there. But the real '59… when you play it and you hear it, it drives you to a different place. You feel as though the guitar responds to your every move, good or bad.
"It's an Aston Martin, and only an Aston Martin handles like an Aston Martin. There's great cars, and then there's Aston Martins. Same thing for the 1959 Les Paul – it's an authentic piece of art that can never truly be replicated, and its mysteries are special. What's really cool about it is, when you put it in the middle position, it's out-of-phase like Peter Green. I'm like Frodo in Lord Of The Rings with this thing – it never leaves my sight."
Before we talk about the new record, we have some reader questions. Logan Thompson asks, Besides your 1959 Les Paul, what is your favorite guitar out of your entire collection and why?
"There's three that are tied for first. I have a 1969 Grammer Johnny Cash acoustic guitar, and it's so inspirational. I have some really nice Martins, but the Johnny Cash Grammer… there's songs in it. I'm not a big acoustic guy, really, but there's something to this model.
"Then there's the first Joe Bonamassa Custom Shop model. I have the first one, with the 001 serial number, and it's just killer. It responds to my every move. It's just like the '59.
"And then there's a '53 Telecaster, which looks like Danny Gatton's guitar. I'm not known for playing Fenders much anymore, but this guitar is amazing. I always wanted a guitar like Danny Gatton's, and this one comes pretty close. If the house was burning down and I had to run out with some guitars, these ones and the '59 would be the ones."
Graham Campbell says, I love your live rig setup, but how would somebody get your core sound on a budget?
"That's a really good question. It all comes down to this: not every amp does everything. Let's say you have a $200 budget, OK? What I would do is, I would buy a cheap tube amp with some gain and compression, and I'd buy a cheap solid-state amp that's really direct and immediate – and I'd blend the two together. And believe me, you can get two amps like these for that kind of money. They're out there. Get one amp that blends the highs and lows and one that handles the mid-ranges. It can be done."
Andrew Allen Walton asks, What was that Telecaster you played when you were a young fella?
"Young fella, as in 25 or so? It wasn't actually a real Telecaster, it's a Gigliotti. A Gigliotti is a really cool custom Tele-style model with a brass top and a mahogany back, sides and neck. They still make 'em, and they're terrific."
Chris Morley says, I'm assuming that BCC will be headlining a tour, but if you were offered the chance to open for someone, who would you want to open for and why?
[laughs] "I love it! You know who I'd like to open for? This will be a surprise, but I'll tell you who: Iron Maiden. People can throw shit at Glenn Hughes. [laughs] It's a tough gig. The guys in Maiden even admit that it's tough. But I think if you can go out in front of an Iron Maiden audience and show the crowd that you mean it, then you can basically play anywhere, anytime, anyplace. Plus, I love Iron Maiden, so I wouldn't mind seeing them every night. Opening for Iron Maiden would be a blast."
Direct from MusicRadar.com:
"With this record, we're a real band"
Joe Bosso, Wed 22 Jun 2011, 11:44 pm BST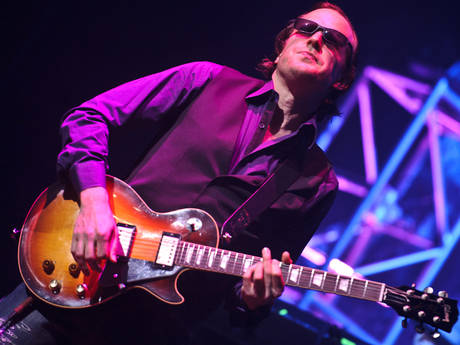 Joe Bonamassa went for a classic British rock sound on Black Country Communion 2. © Chris Schwegler/Retna Ltd/Corbis