Joe Bonamassa's
Guitar Safaris
The guitar titan gets personal about his hunt for vintage gear in his new monthly column in Guitar Player magazine.
The Cajun'
By Joe Bonamassa
It's time to tell another tale of guitar safari goodness: a story about a much played and loved—but not abused—1955 Gibson Les Paul Standard, one of the first batch of Tune-o-matic equipped Les Pauls produced in late 1955. As you can see from the picture, it has been played heavily but miraculously it has never been cracked, broken, or repaired in anyway. I think I was the first person to ever look at the control cavity, given the years of nicotine, liquor, and rust this guitar had accumulated on the screws after so many years playing in the bars and juke joints of the New Orleans area bayou and southern Louisiana.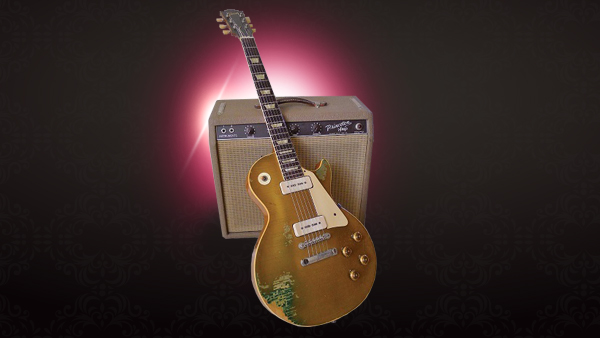 As we navigated through used stereos, Makita power tools, and PlayStation 2s, we noticed there were also a fair amount of guitars, including what I thought initially was a Pete Townsend Polaris White Gibson SG Special reissue. I glance at it briefly and continued walking around the shop. About five minutes later I glanced over again and noticed that the bridge was at the pre-'63 angle- something not offered on the reissues – and that guitar came with the original soft-shell alligator case. "Wow! Nice guitar," I said. First year SG Specials in Polaris White, sans tremolo, don't exactly come up for sale very often and, if they do, they are expensive. This was a very rare guitar, and especially cool for a Who fan/nerd like me. 
To set the scene, we find ourselves having a day off in New Orleans on a cold gray Monday. As usual, my tech Mike, Colin (our bass and keyboard tech), and I are bored. We do a quick Google search of area guitar shops, and we're off to wreak havoc on the local merchants. On this particular day we hit three shops without any luck. It is now about 4 o'clock and there is one shop left on my list but it isn't nearby. It's called International Vintage Guitar…